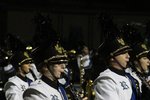 Robin Hood is well-known for being a courageous vigilante who gave back to the poor. The Ringgold Tiger Marching Band took the well known story and brought it's resonance to life. Students have spent hours upon hours for months practicing their music. From the merry festivals in the village to the suspense of Sherwood Forest, this exciting show will keep you on the edge of your seat. When asked how much dedication is required for this production, students replied that you couldn't miss a single rehearsal, otherwise you jeopardize the entire show. Ella Darby, a flutist, declared, "Your individual part needs to be the best it can be to benefit the group as a whole." The band went through months of hard work and practice to bring this show to you. Like Robin Hood, our students go through a tremendous amount of obstacles. Robin Hood had to use his skill to defeat the Sheriff of Nottingham, while the band, color guard, and many others had to power through new music, unfortunate weather, and long rehearsals.
The RHS Marching Tiger Band was named the Grand Champions of the Armuchee Invitational Marching Contest on September 29 and the Trussville Marching Invitational in Trussville, AL on October 26.
At Armuchee, the RHS Color Guard won their class and had the highest score overall while the Percussion section finished second overall. The band also won first place in their class while winning Grand Champions of the contest.
The Trussville Marching Invitational was held at Hewitt-Trussville High School in Alabama. The MTB won first place overall in color guard and drum majors while the percussion section finished second. The Marching Tiger Band was also crowned Grand Champions of this competition. Congratulations, Marching Tiger Band!
While the show may seem impeccable on the outside, the workings behind it required a lot of effort. There is new, difficult music, endless hours of practice on and off the field, and a lot of stamina and endurance needed. By adding easily recognizable musical features and phrases, this medley is a favorite for all. Students of the marching band have described this show as having powerful, exciting music, with a wide range of theatrics. There are only a handful of football games left, and this musical performance is not something you want to miss.